Ride our spectacular Alpine Slide as it descends 1.2km through the majestic Mountain Ash forest.
A lift delivers you to the top of the track and you descend at your own pace as you take in the beautiful surrounds of Corin Forest
The Alpine slide is not suitable for children under the age of 2.
 We operate 1 hour long sessions throughout the day. After your safety briefing you will have the hour to enjoy the slide at your own pace in the limited group of 25 persons.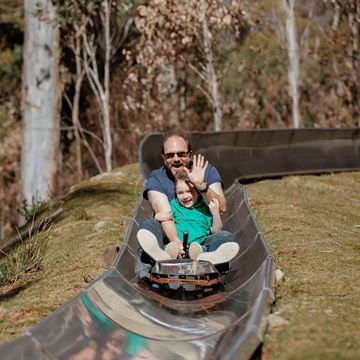 From December 26th tickets will be $10 for children under 8. Each under 8 ticket comes with a free drink* from the cafe from 26/12/23 to 31/01/24.

1 hour session on the Alpine Slide for ages 2-7.

Children under 8 ride must ride with an adult who is over 18 and has their own ticket.

*Drink options include: Soft Drink, Juice, Water